Guest online lectures from world experts and cultural figures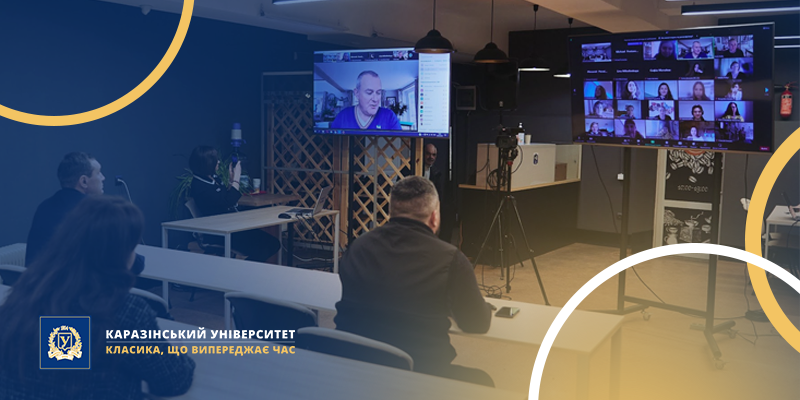 The University has initiated the project "One Lecture before the Victory: World Speakers to Support Karazin University".
The project "One Lecture Before the Victory: World Speakers to Support Karazin University" is an initiative launched to support the university and Kharkiv city during the war, as well as to provide students with a unique opportunity to meet powerful world experts.
What is the aim of the project?
To support Ukranians in difficult times of war by providing motivation and inspiration.
This is a great opportunity to meet famous and prominent actors, photographers, artists, experts in various fields of knowledge, and others who are recognized worldwide for their work, knowledge, and efforts.
During their lectures, they express words of support, share their opinions, and strengthen the Ukrainian spirit.
To raise important issues and provide new knowledge.
Participants have the opportunity to communicate online with invited experts, to listen to their opinions, to learn from their experience, to ask questions and to receive detailed answers.
To promote the popularization of Ukrainian culture and science abroad.
This initiative helps us to draw public attention to the problems faced by Kharkiv and Ukrainian society as a whole.
Such online meetings allow students and teachers not only to gain new knowledge and perspectives, but also to discuss important topics with renowned guests.
How does it work?
Once a week, an invited guest gives a special lecture via Zoom platform. The topics of such lectures include politics, culture, economics, science, etc.
In order to gain a deeper understanding of the lecture, Karazin students have the opportunity to read the lecturer's biography and scientific or creative background in advance.
Supporting the project in wartime is extremely important for the university since it allows Karazin University to adopt the best international practices and to make its own contribution to develop international relations and science in Ukraine.
The launch of the project "One Lecture before the Victory" has become an important event for both Kharkiv and Ukraine in general, which demonstrates the ability of Ukrainian science and culture to enter the world arena regardless of all the difficulties of wartime.
Announcements of the upcoming events and information about the lectures given can be found on the university's website and in Karazin University's official social media.
Project Organizing Committee:
Center for Public Relations;

educational and production university mediastudio.
Alina Leheida, Associate Professor of the Department of English Philology and Foreign Language Teaching Methods at the School of Foreign Languages, will be responsible for communication and inviting speakers, for moderation and simultaneous translation of the events.