17 march 2023 year
Lecture by Alan Marcus, cultural historian, film expert, head of the Department of Creative and Cultural Practices, Faculty of Language, Literature, Music and Visual Culture, Aberdeen State University
3 march 2023 year
The Lecturer from Karazin University Delivered a Guest Lecture Titled 'Critical Media Literacy in Building Information Resilience'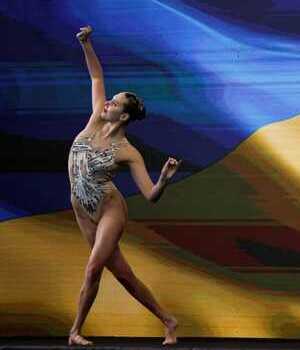 University student Marta Fedina won a gold medal at the first 2023 World Cup in artistic swimming
Ukrainian athletes continue to prove their skills and become the best in the international arena. Successful performances at world competitions support the spirit of Ukrainians, become a real reason for pride and proof that, despite the circumstances of the war, life goes on, and nothing can stop our people.
This year, for the first time in history, the World Cup in artistic swimming among single women in the technical program started in the city of Markham (Canada).
Marta Fedina, a student of the Faculty of Sociology of the Karazin University, won the gold medal in the technical solo and won the first award of the World Cup for the Ukrainian national team. The best synchronized dancer of 2022 in Europe performed with the program "Magic Violin" and scored 245.2917 points.
Congratulations to Marta on a brilliant victory! We wish you strength and inspiration for new sports achievements!
Photo:
Ukrainian synchronized swimming