18 november 2021 year
Karazin University Physicists Together with German Colleagues Work on Developing Plasma Technologies for Spintronics and Energy Materials
10 november 2021 year
Karazin University Delegation Takes Part in the Meeting of the Steering Committee of the International Research Project "IRP IDEATE"
Open Regional Financial Literacy Tournament "Life Capital"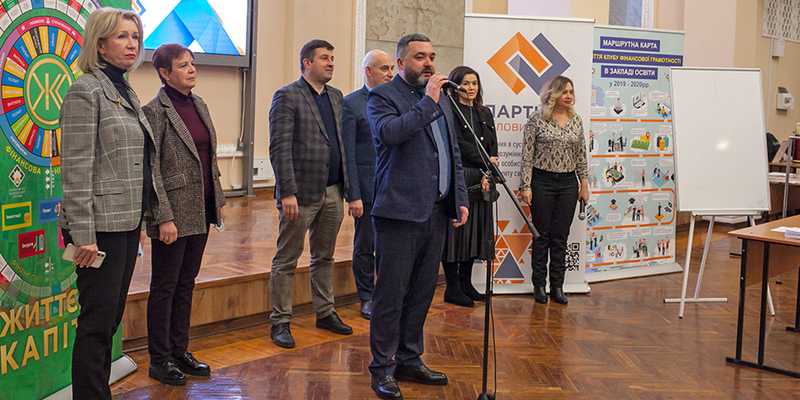 On November 13-14, 2021, the second stage of the Financial Literacy Tournament "Life Capital" took place at Karazin University.
The tournament is the basis for improving students' financial literacy as a necessary condition for a better level and quality of life, the development of practical skills and competencies in the use of financial services in order to improve their financial well-being and develop interest in advanced achievements in financial information and financial communication technologies.
The tournament opening ceremony was attended by the Vice-President Anatolii Babichev; the Director of the Education and Research Institute "Karazin Banking Institute", Borys Samorodov; President of the Kharkiv Banking Union, Olena Zhukova; President of the Kharkiv University Consortium, Liudmyla Bielova; and representatives of the public organization "'Partner' Business Club" ― President Serhii Ivahl and the Head of the Kharkiv branch, Maryna Hosha.
Anatolii Babichev stressed the importance of raising the level of financial awareness and culture of the country's youth.
Maryna Hosha, the regional Head of the Kharkiv branch of the "'Partner Business Club'", said: "Economics is the foundation of the country, but everything depends on us. You are the future of the nation, I want to wish you inspiration, do not look for a profession, look for a calling, then you will not have to work a single day in your life. I want all your plans to be fulfilled, and today we will give you a practical tool to achieve this as soon as possible."
In total, 6 teams from higher education institutions, 9 institutions of professional higher education and 13 teams from the group of general secondary education institutions took part in the second stage of the financial literacy tournament. The number of participants has doubled compared to previous tournaments. As a result of intense struggle, the teams that scored the most points in the two stages reached the finals.
In the third stage, the teams will defend the prepared developments on the topic of financial literacy.
Congratulations to the winners of the two stages of the tournament! We are waiting for you in the final!
Results of two stages of the tournament (PDF, 253 Kb)