26 july 2022 year
Viktor Dolgov, professor of the Department of Security of Information Systems and Technologies of the Faculty of Computer Sciences, has passed away: the university sympathizes...
21 july 2022 year
Oleksandr Chaban, a graduate of the Faculty of Sociology, died defending Ukraine: the university sympathizes...
The head of the Student Council, Vitalina Shevchenko, was awarded the title of honorary master of the University of York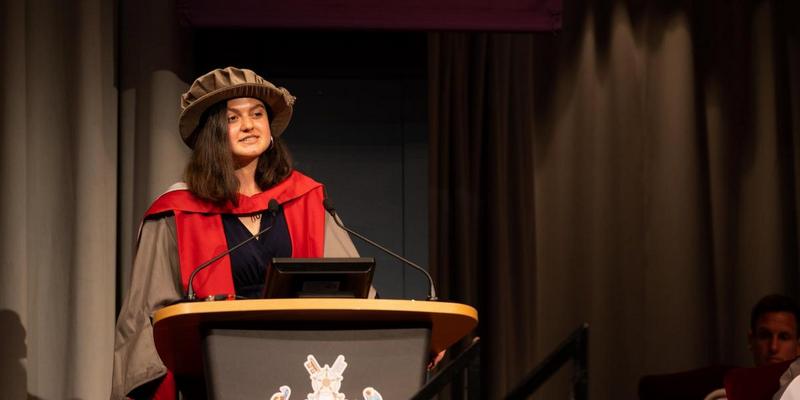 In May-June of this year, Karazin University and the University of York started extensive cooperation within the framework of the Twinning initiative, one of the leading directions of which is the development of partnership between student unions of universities.
During the recent graduation ceremony of York University's master's students, Karazin University Student Council Chairwoman Vitalina Shevchenko was awarded an honorary master's degree from York University.
"We are sure that soon we will return to Ukraine, to Kharkiv, to our university and studies, and everything will be as before," Vitalina said during the ceremony.
Speaking at the graduation ceremony, Patrick O'Donnell, President of the University of York Students' Union, said: "Vitalina is an amazing girl, rich in soul, persistent in her work, optimistic, far-sighted. In these strange times of global uncertainty, the world needs as many people like Vitalina as possible, who can unite us and promote a shared vision of peace based on respect, the spread of knowledge and academic freedom."
Karazin University is proud of its students who, even in times of severe trials, hold the high rank of Karazin and demonstrate to the whole world their faith in the victory of Ukraine and the indomitable spirit of the Ukrainian people.