V. N. Karazin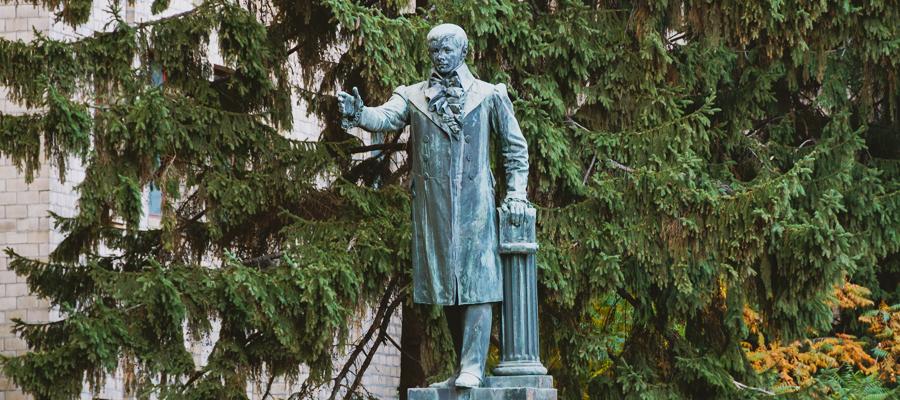 Vasyl Nazarovych Karazin (January 30 (February 10), 1773 — November 4 (16), 1842) was a prominent scholar, enlightener, founder of Kharkiv University. He initiated the creation of one of the first European Ministries of Public Education.
Vasyl Karazin was born in Kruchyk village, Bohodukhiv district, Kharkiv province, into the family of serviceman Nazar Karazin. The Karazins were descended from the ethnic Greek Hryhorii Karadzha, an archbishop of Sofia. Vasyl's mother, Varvara Kovalenko, was the daughter of a sotnik of the Kharkiv Cossack Regiment.
Vasyl Karazin received his primary education in private boarding schools of Kharkiv and Kremenchuk. He personally knew Hryhorii Skovoroda, whose works influenced further development of his worldview. He served in the Semenov Regiment. In 1795, he left military service and settled in his estate in Kruchyk village
Vasyl Karazin's greatest achievement in the field of education was the opening of Kharkiv University. The educator not only convinced the government of the necessity of this step, but also did a great amount of work to prepare public opinion and raise the money needed to open the university.
In 1811, V. N. Karazin established the Philotechnical Society to spread the achievements of science, technology and to develop industry. Karazin is the author of fundamental works in various fields of knowledge, but his discoveries and inventions in food industry, meteorology, and chemistry were especially valuable. His ideas about the use of electricity and production of artificial diamonds became extremely relevant.
He died and was buried in Mykolaiv.
He was one of the most educated people in Russia in the first half of the 19th century and left a mark on science as a versatile researcher, author of a number of democratic concepts. He played a big role in spreading progressive ideas in Ukraine. Contemporaries and descendants compared his activities in Ukraine with those of Mikhail Lomonosov in Russia and Benjamin Franklin in America.
Monuments to Vasyl Karazin were erected in Kharkiv and his native Kruchyk village. A street in Kharkiv, a square and a street in Bohodukhiv are named after V. N. Karazin.
In 1999, the name of V. N. Karazin was given to Kharkiv National University. At all stages of existence of this higher education institution, Karazin's name has been honored and respected. There have been scholarships named after him, conferences held in his honor, books and articles about him, and the University has announced medal themes dedicated to Vasyl Karazin.