16 june 2022 year
Karazin University is grateful for help
13 june 2022 year
Yevhen Khrapko, an engineer of the simulation center of the Faculty of Medicine, died: the university sympathizes...
A solemn online graduation of students of the university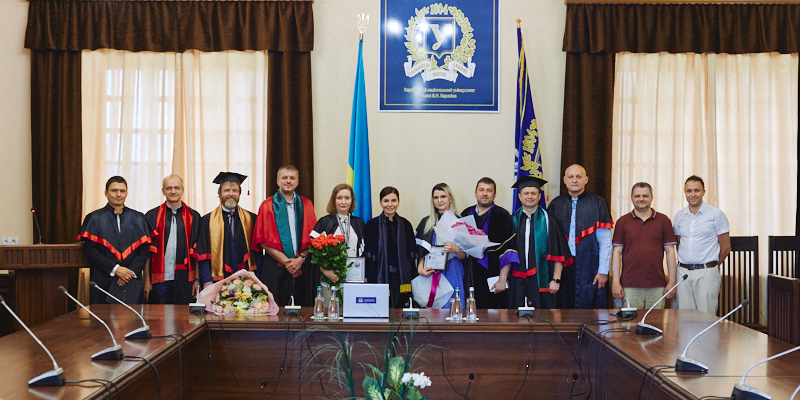 On June 14, 2022, a solemn online graduation of masters of the university took place in Karazin University.
Due to the invasion of the Russian occupiers on the sovereign territory of Ukraine, the event was held online. Everyone could join the live viewing of the event on Karazin University's official pages on YouTube, Facebook and Instagram.
The event was attended by Rector Tatiana Kaganovskaya, the university administration, deans of faculties, directors of institutes, the chairman of the student council.
"Dear graduates, despite all the circumstances, today is a holiday for you, because there are moments that remain with us for life. And we hope that your path in Karazin University will forever be engraved in your memory and heart, because Karazin University is a lifelong love," Rector Tetyana Kaganovska congratulated the graduates.
According to the tradition, the medal "The best graduate of Karazin University" in the 2021/2022 academic year was awarded to students for excellent study, outstanding achievements in research and active participation in public life. This year the best graduates of the university were:
graduate of the Faculty of Mathematics and Informatics Maxim Labzhaniya;
Maria Nelyapina, a graduate of the Medical Faculty;
Oleksandra Rebrysh, a graduate of the Faculty of Physics;
Oksana Orach, a graduate of the Faculty of Chemistry;
Iryna Surikova, a graduate of the Karazin School of Business;
Tatiana Medintseva, a graduate of the Institute of Computer Physics and Energy;
Andriy Shimanovsky, a graduate of the Institute of Physics and Technology;
Hamed Ibrham Hamed Gadalmula, a graduate of the Karazin School of Business.
Congratulations to the graduates of Karazin University and we wish you good health, peace, prosperity, stability, successful self-realization, professional, scientific and creative achievements!