13 march 2023 year
Congratulations to the graduates of the postgraduate course of the Faculty of Chemistry who have successfully defended their PhD theses in France
10 march 2023 year
Opening of the exhibition "Personnel"
A lecture by Nina Berman, a professor at Columbia University's Graduate School of Journalism in New York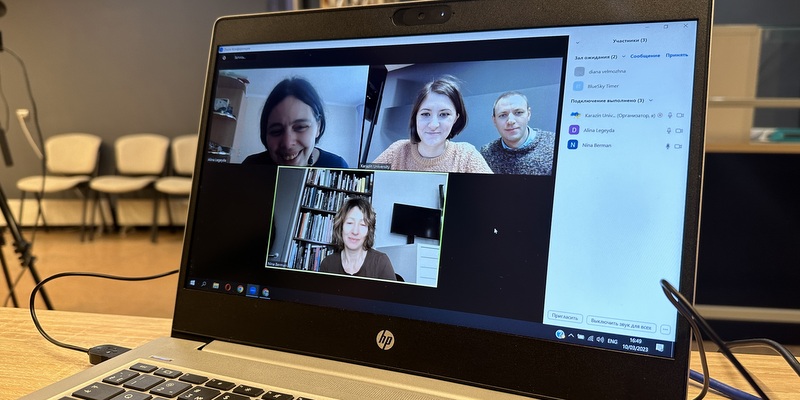 A guest lecturer Nina Berman, who is a leading American documentary photographer, journalist, film director, writer, professor of the Graduate School of Journalism at Columbia University (New York), Doctor of Philosophy, held a lecture at Karazin University.
"When we talk about the war now, we are not only talking about the course of the battle itself, but also changes in social, political, economic and all other aspects. We need to learn to understand how we think, how to record everything. Therefore, media communications, social communications and all other fields related to journalism are also very important now. And it is very important for us to learn from the experience of professionals who know how to broadcast this topic to society," Olena Muradyan, dean of the Faculty of Sociology, noted at the beginning of the event.
In her lecture, Nina Berman touched on the mechanisms of creating propaganda, myths through the American perspective. She emphasized one of the key myths — "the war is over." After all, in reality, for many (witnesses of military actions, veterans), the war does not end: people continue to relive their traumatic experience for a long time.
In her works, Nina Berman seeks to reflect on the events of the wars in Vietnam and Iraq, in particular, to rethink the essence of traumatic memory. In her monograph "Purple Hearts - Return from Iraq", she collected portraits and interviews of veterans of the war in Iraq who were wounded during the fighting.
And in the monograph "Fatherland" he examines the militarization of American life and society after the tragedy of September 11, 2001 in the USA, in particular, the consequences of this process.