30 august 2021 year
Maryna Lytovchenko Wins Gold at the 2020 Paralympics
17 august 2021 year
Ambassador Extraordinary and Plenipotentiary of the Republic of Uzbekistan to Ukraine Visited Karazin University
Karazin University students took part in the National Student Forum: Education, Leadership, Responsibility
21 august 2021 year
Education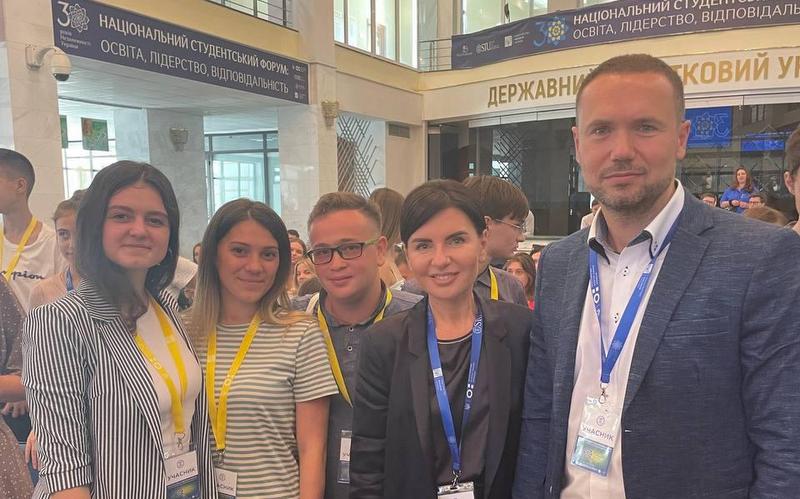 On August 20, 2021, the opening of the National Student Forum: Education, Leadership, Responsibility, dedicated to the 30th anniversary of Ukraine's independence, was held in the city of Irpin, Kyiv region, with the participation of the Minister of Education and Science of Ukraine, Serhiy Shkarlet.
This event is designed to promote the formation of a community of proactive and responsible leaders of student self-government, to create a unique environment for their fruitful cooperation with university, government and business representatives.
The participants of the form were almost 200 students from different parts of Ukraine, as well as government and business representatives, heads of higher education institutions, opinion leaders on issues of modern education policy. Among them are the people of Karazin: the rector, professor Tetyana Kaganovska and students of the university, in particular the deputy head of the student council of the university Vitalina Shevchenko, the head of the union of students of the Institute of Computer Physics and Energy Iryna Koryagina and the secretary of the student council of the educational and scientific institute "Karazin School of Business" David Umansky They were not just listeners, but also active participants in discussions.
The program of the forum included, in particular, the following discussion panels: "Stand-up: creativity and creativity", "Student science: from ideas to implementation", "Student ombudsman: role and opportunities", "Environmental marathon: from macro-problem to micro-solutions", "Open discussion: higher education in the conditions of COVID-19".