22 січня 2023 року
Day of Unity of Ukraine: the university celebrates
20 січня 2023 року
Karazin University joined the Christmas marathon of physical experiments
Day of commemoration of defenders of Donetsk airport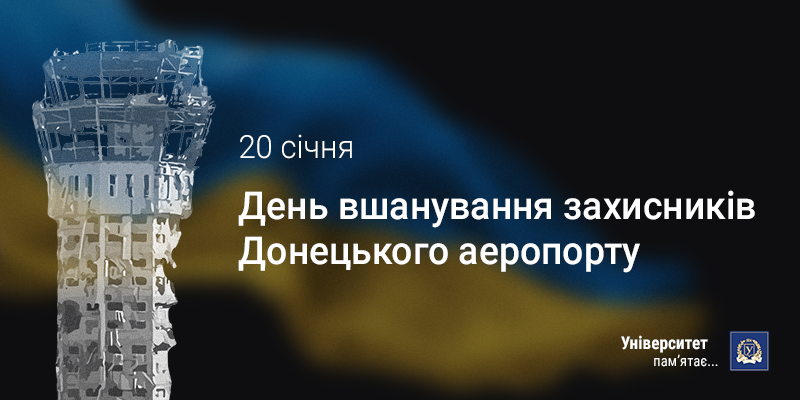 On January 20, Ukraine honors the indomitable heroes - the defenders of the Donetsk airport.
This is a day of commemoration of the feat of Ukrainian defenders who fearlessly resisted the russian aggressor and held the DAP, the construction of which was not suitable for any defense at all, medics and volunteers who provided help and support to Ukrainian fighters. We honor the memory of all those who stood for our country in those days.
Officially, the defense of the airport lasted 242 days, but fierce fighting continued until January 23, 2015, so the defenders themselves emphasize that the defense of Donetsk airport lasted 244 days. DAP defenders are called "cyborgs" for their indomitability, fearlessness and steel character. They fought at the limits of human capabilities, holding their outpost to the last.
The battles for Donetsk airport became one of the fiercest during the russian-Ukrainian war. The DAP defenders performed a heroic feat, put up fierce resistance, and persevered despite everything. Concrete could not stand...
On October 3, 2014, during the battles for the Donetsk airport, while rescuing a wounded comrade, Svyatoslav Horbenko, a student of the history faculty, a junior lieutenant, a fighter of the Ukrainian Volunteer Corps, received a fatal shrapnel wound to the carotid artery in the premises of the old terminal.
Eternal memory, eternal glory and honor to the defenders of Ukraine!