29 november 2022 year
Students of Karazin University successfully performed at the competitions for the Cup of Ukraine in archery
26 november 2022 year
International scientific and practical conferences "Cities and regions at the epicenter of spatial changes" and "Region-2022: optimal development strategy": work results
Remembrance Day of the victims of the famine: the university honors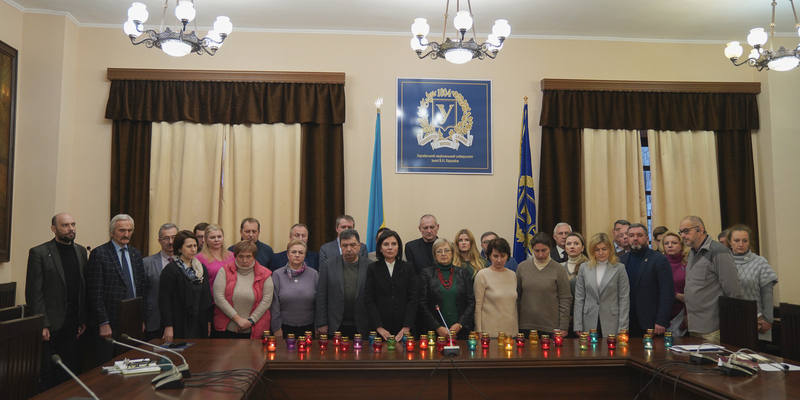 Every year on the fourth Saturday of November in Ukraine, the memory of the victims of the famine of the 20th century is commemorated.
During this period, Ukrainians experienced three famines: 1921–1923, 1932–1933, and the famine of 1946–1947. This year marks the 90th anniversary of the largest famine of 1932-1933, carried out by the Stalinist regime, which became the genocide of the Ukrainian people. The Soviet authorities wanted to suppress the Ukrainian national liberation movement and destroy a part of Ukrainians, but they did not break our desire to live in dignity and freedom.
The Holodomor is not just a historical past, but a great spiritual wound that pierces the souls of its eyewitnesses and the modern generation with unbearable pain. After all, today we honor the memory of Ukrainians tortured by hunger during russia's full-scale war against Ukraine, when the russians are once again using genocidal practices against our people.
In this war, russia has the same goal as during the Holodomors - to destroy the Ukrainian nation, identity and mentality. These tragic events clearly prove that the living memory of all victims is extremely important.
Therefore, to honor the memory of the victims of the Holodomors, the administration headed by the rector Tetyana Kaganovskaya and the employees of the Karazin University traditionally gathered to join the all-Ukrainian action and light memorial candles in honor of all those who died.
We honor and remember!
Photo:
Mykhailo Protsenko