19 may 2023 year
Roundtable on the Days of Scientific and International Partnership and Commemoration of the Crimean Tatar Genocide
26 april 2023 year
Lecture by Professor of Shakespeare Studies, Director of the Shakespeare Institute in Stratford-upon-Avon Michael Dobson: we invite you to join
Lecture by Professor Peter Asaro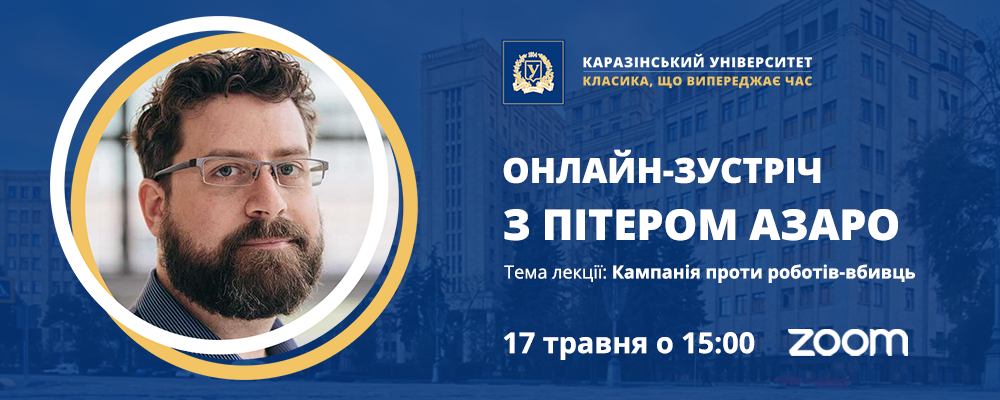 On May 17, Professor Peter Asaro, a philosopher of science, technology and media, will give a guest lecture for Karazin residents.
His work examines artificial intelligence and robotics as a form of digital media, the ethical dimensions of algorithms and data, and the ways in which technology mediates social relations and shapes our experience of the world.
The lecture "Campaign to Stop Killer Robots" is a part of the lecture series of V. N. Karazin Kharkiv National University: "Lecture to Victory: World Speakers in Support of V. N. Karazin Kharkiv National University" and will be the thirteenth within this initiative.
Professor Asaro's current research focuses on the social, cultural, political, legal and ethical dimensions of automation and autonomous technologies, from a perspective that combines media theory with science and technology studies.
His research also examines agency and autonomy, liability and punishment, and privacy and surveillance as it applies to consumer robots, industrial automation, smart buildings, UAVs and drones, and autonomous vehicles.
Now he is currently researching a book that interrogates the intersections between advanced robotics, and social and ethical issues.
Start of the event: at 15:00.
You can register for participation by following the link.
The meeting will be held on the Zoom platform.
A link to log into Zoom (where you can ask your questions live) will come in a separate email to all registrants.
You can also listen to the lecture on the university's YouTube channel during a live broadcast.
We invite Karazenians to join us!