Student Theater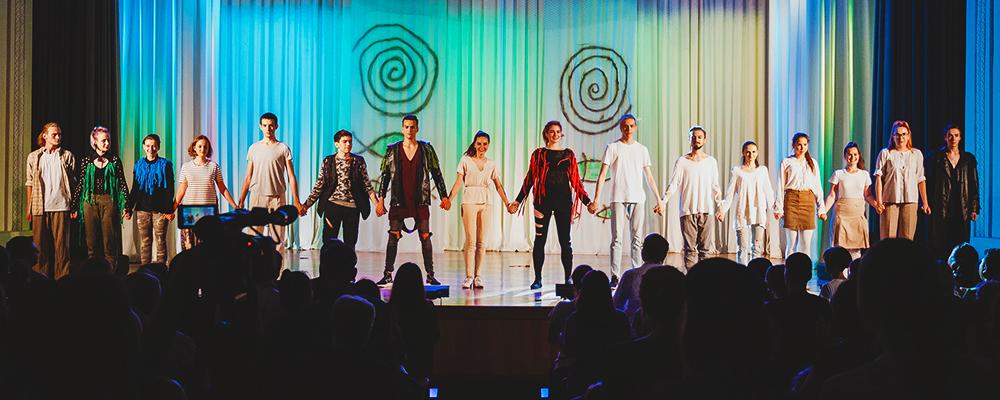 There used to be a theater in the history of Karazin University, but it ceased its existence for a long time. A new stage began on February 15, 2018, when, on the initiative of the University President, Vil Bakirov, Karazin University held the first meeting of its students and staff to discuss the opening of the Student Theater. After that, the beginning of casting was announced.
In March of the same year, a meeting was held with the directors of the Student Theater — alumnae of I. P. Kotlyarevsky Kharkiv National University Yuliia Kovalchuk, Anna Horbunova, and Liliia Petrenko.
The first rehearsal took place on March 15, 2018. Since then, the Theater has successfully resumed its activity, rapidly gaining momentum.
Liliia Petrenko told about the importance of this initiative: «Today, children are very repressed and troubled, they choose to be completely antisocial and follow the rules imposed by society, they are indifferent to the environment and to themselves in particular, have many complexes and fears. It is necessary to fight this problem, otherwise we'll have no future, everything will be really like in horrible thrillers about people-machines. And only art can help us, because theater is the art about people, their life, choices, problems. Through theater we can tell the world about anything, show the problem, not make diagnosis, but reveal and tell a story about the consequences of unawareness, draw conclusions and leave space for the viewer to think.»
In the Theater, students learn the basics of acting, movement techniques, learn to dance, work on stage speech. This is not easy, because the Theater group includes students from different University schools: School of Law, School of Sociology, School of Philology, School of Physics, School of History, as well as the School of Foreign Languages, School of Psychology, School of Mathematics and Computer Sciences, School of Computer Sciences, and others. Each of them came to fight with themselves, which is a hard work, but the results are obvious.
Every Theater instructor works individually with each student both on the task, correcting mistakes, and on psychological development in general. «Students should know that there are people who hear and understand them, who is always ready to help and instill confidence in them», says Yuliia Kovalchuk. For her part, Anastasiia Yeremina remarks: «Nothing is impossible, if you have already come here, everything will be fine».
In June 2019, after a year and a half of intense rehearsals, Karazin University Student Theater made its long-awaited debut. The audience saw the plastic verbal play Lizard based on Oleksandr Volodin's play. The directors were Yuliia Kovalchuk and Liliia Petrenko.